Tired of hearing "I'm bored Mum"? Why not keep your kiddos busy while they enjoy!
Well, here are just a few suggestions of fun things to do on school holidays!
1. Have a kids MasterChef competition at home.
Keep meals simple – something such as pizza (just the toppings for little kids) is perfect. This works especially well if the kids have a few friends over. Have a competition as to who makes the best pizza – you can be the judge. Making dough from scratch is fun (and tiring!) but very inexpensive. Plus an added bonus – you don't have to cook dinner!
2. Book in for Circus School
Quite a few circus schools have popped up all over Australia.  Check out if there is one year you through My Best Gift.

An Error Was Encountered

Unable to connect to MongoDB: Could not connect to any of 1 hosts. Latest error: unable to connect to 127.0.0.1:27017 because: Connection refused
3. Visit a local park.
Ohh yeah – you've heard that one before. But not just any park, get out the UBD or on the internet and find a park that you haven't been to before. Many of the new Council playgrounds are marvelous. There is water play, flying foxes, all sorts of do-be-watchits and thing-a-majigs! A lot of them are fun for parents too!
4. Go to a Make Your Own Slime Class
Slime has been banned at my house after the kids played with it on the couch and I now have a huge green snot-like smear right where you sit.  If you hate slime too – then this is for you!  There is now a Slime Making 'Masterclass' for ages 4 – 14 years. Find out more information here!
5. Go Swimming.
Well, this one is for summer – check out your local pool. It's cheap to get in. All kids love swimming and there is always a nice shady spot for Mum to sit and read whilst Dad watches the kids! Sick of the local pool? Visit one of the really big water parks – some of them have heated pools indoors!
6. Take a train ride.
There are still a couple of old steam trains around the trap. Make a day of it and take the whole family – even grab Nanna!  The Mary Valley Rattler in Gympie has just started running again – only two hours drive north of Brisbane.
7. Go to Code Camp
If your kids are mad about computers, what about enrolling them into a Coding Camp!  They have over 100 locations all over Australia and starts from age 5 right through to teens.  Leaning can be fun!
Ninja Warrior is so popular with kids and families around Australia, so why not join the Ninja Warrior School Holiday Workshop?  The Workshop runs over two days (2.5 hours per day) where you child will learn ninja skills!

Ages: 5 – 15 years

Location: Wetherill Park, NSW
9. Play puppet show at home.
Puppet shows have always been the cornerstone of imaginative play for children and you can make your own puppet show at home too! So collect all your socks that you´re no longer using and get out the clag and have fun creating.
10. Try Aerial Silks in a School Holiday Workshop

Let your kids learn to climb, swing, drop and perform thrilling acrobatic feats.  This is a three-hour workshop that includes a short performance and gives your child the opportntity to try the statis trapeze and aerial lyra (the hoop).

Ages: 5 – 14 years

Location: Various
11. Try Geocaching.
Geocaching is a boredom-buster activity that can take place nearly anywhere. It enables children to continue learning and have fun at the same time. So how about taking your kids for a Geotour? Enjoy finding goodies!
12. Have a picture-taking contest.
Photography is an excellent art form that children can enjoy as a hobby throughout their school holiday. So share cameras with them, experiment by taking all sorts of pictures, make it as funny as possible and create your own school holiday catalogue!
This Surfing Camp for kids is a five day package (that can be split up over the school holidays) and is suitable for all levels and abilities.  Your child will learn ocean safety and surf etiquette, paddling and catching waves, control, standing up and riding waves.

Ages: 6+

Location: Dee Why, NSW, Moana SA

Website
What´s not exciting about brain teasers? They are entertaining for kids who need an extra brain-charged challenge. It surely does help them build up their creative thinking and logic skills. You can find printable worksheets online like riddles, optical illusions, puzzles and more!

Ages: Classes available from 2-5 years, 8-15 years and 6-15 years.

Location: Queensland, Victoria

Website
Horse riding is something all kids should try at one stage or another.  There are plenty of places around Australia – and there is even a fantastic two-day overnight horse riding camp available!

Ages: 6 – 16 years

Location: NSW
Gaming is huge in our family, and this is a great idea for the budding 'Mark Zuckerberg' in your family.  There are even three or four day Gaming Camps!

Ages: There are 4 – 14 according to skill level

Location: ACT, NSW, SA
17. Create a Photo Album Comic Book.
Just download and print your funny pictures and start creating your real-life comic by using thought and speech bubbles!
18. Make a box village.
Don´t throw those used milk and juice cartons and cereal boxes in the rubbish bin! If they are still in good shape, then have fun with kids by building a city out of boxes.
19. Create Story Stones.
Sky's the limit in terms of the characters you illustrate on your stones. You can collect as many stones as you want and use either acrylic paints or the oil-based sharpie. I suggest the Nature of art for kids® brand of acrylic paints, or you can also buy the Liquicryl.
20. Go for a Bike Ride.
You can call it "the adventures of town cycling!", a fun and healthy bonding moment with kids that can take place in anywhere around your neighbourhood.
21. Build an ant nursery farm home.
You can create your own by using two jars with lids, one should be thinner and a little shorter than the other. Or if you prefer a flat one, you can purchase a skinny aquarium at a local store. Video Tutorial below.
22. Make your own indoor obstacle course.
Choose the activities that match your kid's skill level, or might as well have them choose the activities. You can be creative in making your own family-friendly obstacle course, like a laser maze. You can set this up in for your kids to climb through, using a red yarn or ribbon.

23. Name that cartoon character!
This game is convenient for parents, especially when you need to stay inside the house. Kids love cartoons. You can download audio recordings of different cartoon characters and start the guessing game!
24. Have some fun home science experiments.
Curious kids of all ages are always fascinated with the power of science! Kids can do science experiments at home with whatever you have on hand. Like creating chicken sounds from a cup, the arrow trick and the milk and coke experiment.
25. Plan a farm visit.
Old school? Yes, it is not a unique activity but it never goes boring. You can do lots of activities in a farm, ride horses, feed goats, watch the ducks fall in line and take a plunge in a nearby river.
26. Visit an Animal Shelter or Your Local RSPCA.
Kids can join educational-based programs about animals which include hands-on service projects for animal care. Plus who doesn't love going to give the animals a bit of love!  You may even end up with a new member of the family!
27. Take your dog to the beach.
Most dogs love the beach, so as kids. Give them both the opportunity to experience the joy of romping on the sandy beach!
Australia has loads of theme parks now (we even have a list of them!) and there are more and more every day in every state!
29. Visit an Aquarium on a Really Hot Day
When the temperatures over the Christmas Holidays get up around the 40 degree mark – head to the local Aquarium!  Not only is it fascinating, it is cool!

There are SeaLife Aquariums in Melbourne, Sydney and Mooloolaba.
30. It's journal jotting time!
During a family road trip, have your kids note down what they see (weird-looking trees, koala etc.) to keep their brains busy while eating snacks! It would be great to bring along a stack of old magazines for them to cut out and paste pictures that describe what they have seen.
31. Go Ice Skating!
Ice Skating is something not many Aussie kids get the chance to do – but if it is stinking hot – what is better than having fun in a freezer!  There are loads of ice rinks around the country!
32. Hold a stacking cups contest.
No doubt being the boys' favourite, but the girls can get into the fun too!  Hop onto Youtube to see some amazing cup stacking videos!
33. Visit an Inflatable Water Park
My boys just adore the inflatable water parks – and they are fun for grown-ups too!  If you grab your tickets online – you can get a really good deal.  Inflateable Water Parks are all over Australia!

Here are a few of the online deals:
34. Have a Family Game of Mini Golf
Mini golf is a terrific whole family activity that is beloved of people of all ages! Google the nearest location to you!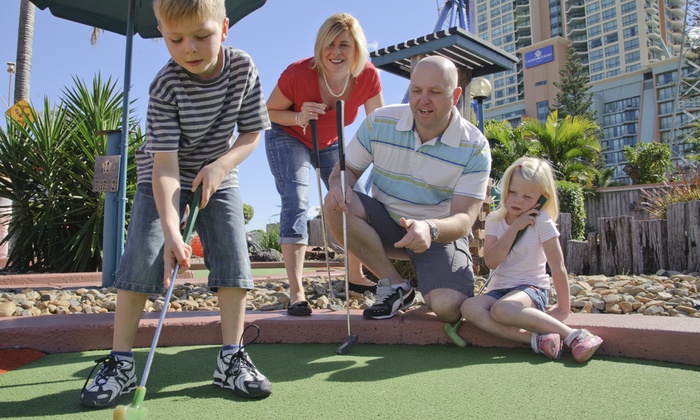 35. Visit a Maze!
There are still some of these beautiful mazes made out of shrubs around Australia.  Get lost in these mazes – and have heaps of fun doing it!

They are located:
36. Visit the Botanical gardens.
Botanical gardens may sound like a huge snooze fest – but they are a treasure of beauty and information.  Join a guided tour and have the kids identify some of the better known species of plants!
37. Build a sand castle at the beach.
Kids of all ages love building sand castles or any structure on the beach, their imagination thrives in open-ended play.
38. Go Whale Watching
Countless coastlines around Australia are home to the most beautiful whales on the planet, the humpback!  See these curious giants close up – it is truly a wonderful experience for the whole family!
39. Play name that place game
Utilise your flat screen TV for expanded viewing when playing this game. Download pictures and flags of famous places, create a slide show gallery and have your kids guess the name of that place.
40. Visit the Legoland Discovery Centre in Melbourne
LEGOLAND® Discovery Centre is a unique family attraction located in Australia's leading shopping centre, Chadstone – The Fashion Capital. With 12 different LEGO® experiences within the attraction, there is something new and exciting to experience on every visit to the ultimate indoor LEGO playground.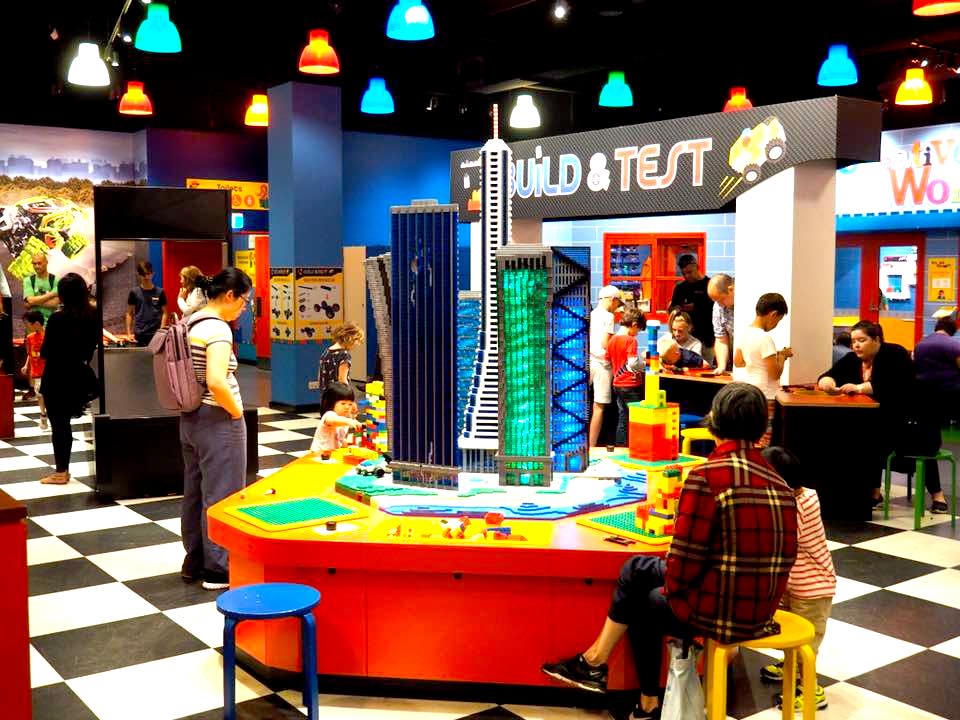 41. Go for a nature walk.
It is much healthier when you turn a walk into a nature walk with your children. This gives them the opportunity to explore and appreciate the natural world.
42. Do playground Olympics.
Grab out your camera to capture memories of their funny faces as you watch the children practice their kiddie marathon! Playgrounds make the best place for them to run around, climb up the monkey bars and jump. Get the kids active and out of the house!
43. Play candy scavenger hunt.
Classic kiddie game that never fades to thrill kids. There are many scavenger hunt ideas, but sweets make the best.
44. Visit the library.
There are lots of fun activities children can do on library visits along with other kids, bookmark contests, games and lots more.
45. Fly a kite.
Why is it fun? Simply because it's an ultimate carefree pastime. Kids love seeing a colourful kite soaring gracefully overhead, a definition of sheer fun!
46. Visit the museum.
Learning fun facts and hunt details in museums have an advantage in preparing your child's historical knowledge when the school holiday is over.
47. Go on a kids eat free food tour.
It's nice to go out for family meals in restaurants, but often times, it is a bit uncomfortable for the budget. Great news! Many restaurants have special promos for kids ages 12 and below to eat for free!
48. Trampoline joy jump!
Bouncing high is crazy fun! Kids love it and it's the best way to wear them out. You can either purchase your own trampoline or much rather visit SKY ZONE Trampoline Park or BOUNCE (Tingalpa) if it is not too far from your location.
49. Play hidden objects (in a sandbox) game.
Little ones can't get enough digging for goodies inside a sandbox. Using balls with numbers, letters, shape sorting cubes or those cute hide n' seek squeak eggs are better options than small toys. Ask Daddy to build a sandbox instead of purchasing one.
50. Play kids secret hide away.
Feed their imagination. Whether indoor or outdoors, building a den, fort or tent whatever you want to call it, is every child's fantasy, especially when joined with other kids. So those old curtains, cushions and boxes will be put to use.
More Ideas Next Page!!